A System To Suit You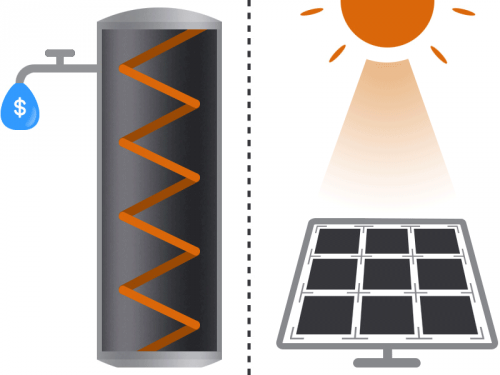 SunFlow® Solar Hot Water Systems are assembled in New Zealand by Heating Partners Ltd. Rather than try and re-invent the wheel, we scour the world for the very best heating components, tanks, collectors and controls from some of the world's largest and most advanced production facilities, allowing us to keep one step ahead as technology progresses.
SunFlow® Solar Hot Water Sytems are distributed in New Zealand by Heating Partners Limited through their nationwide network of Authorised Dealers.
The SunFlow® Split System
The SunFlow® Split System is a complete hot water solution designed to provide maximum efficiency and slash energy costs.
Solar collector panels mounted on the roof harness energy from the sun and transfer it to a ground mounted storage cylinder. The vertical structure of the cylinder increases efficiency through stratification, while the smart solar controller and element configuration allow for maximum solar gain. With a wide choice of sizes, including 250, 300 and custom designed cylinder capacities, a SunFlow® Split System can meet the needs of any household.
And, like all SunFlow® Solar products, the Split System is designed to operate in European conditions and is ruggedly built to handle the harshest extremes of our environment, from the frosts and snow of the deep South to the relentless sun and associated UV of the winterless North.
So we can rest assured that your system will survive the cold of winter, we have refined our range and now only offer closed circuit systems. In freeze conditions or harsh water areas, a closed circuit system with a Duplex Stainless Steel cylinder, is simply the best. SunFlow's advanced design principles mean that regardless of whether you live in a low or high radiation area, there will be a collector choice available to partner the chosen cylinder to maximize solar absorption and storage. Consult with your local SunFlow® Dealer about which system is best for you.
Make enquiry ›