How it Works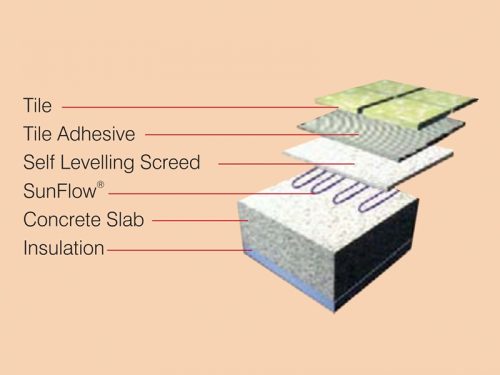 SunFlow® under tile heating is safe for the whole family
SunFlow® Floor Warming is factory tested to the most rigorous standards. The power leads and the heating elements are fully earthed from one end to the other and the entire element is enclosed in a protective PTEE outer cover.
The installation process made easy

SunFlow® Floor Warming is installed by qualified personnel. After being secured to the floor the heating elements are covered by a protective fibreglass mesh and then covered with an isolastic seal.
SunFlow® specify that all floor warming systems are connected to the mains power supply by a registered electrician and that all power is supplied through a residual current device. No other product offers this combination of features.
In conjunction with SunFlow® Radiant Floor Heating systems, SunFlow® can install under tile floor warming in ensuites and bathrooms to provide cosy, radiant heat all year round.

Make enquiry ›